We are proud to launch Building a City of Welcome, Safety and Hope, a centralised fundraising appeal linking with five different refugee organisations in Bristol to help them to both respond to Covid-19 in the immediate, whilst also supporting them with their longer term needs. Whilst Covid-19 poses a new challenge for our organisations, staff, volunteers and the people we support, we know that fear, mental health issues, poverty and isolation are not new feelings amongst people seeking sanctuary in our city. Our solidarity campaign will ensure that our organisations can continue to support people once the crisis is over, that we can continue to be a lifeline, and build a welcoming and safe community. Please consider donating to our solidarity campaign, helping Bristol to be a city of welcome, safety and hope, both now and in the future.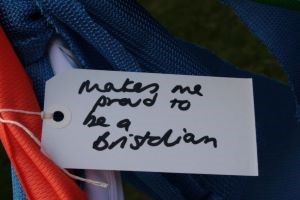 All funds raised will be shared between the six charities listed below:
* Aid Box Community supports asylum seekers and refugees who are making Bristol their home. We have had to close our hub and free shop but, in true Aid Box Style, we will continue to respond practically to the vulnerable people who still so desperately need our help. Our amazing volunteers will act as community connections workers, regularly phoning or video calling service users to check in and see if they are OK. The connections team will assess peoples need and ensure that those who need practical help receive it quickly and safely. Our aid response team will then mobilise and deliver food packages that you have helped us purchase, pick up prescriptions or post etc. Help us respond to these needs now, and enable us to be there for our service users in the future.
* Bristol City of Sanctuary works with individuals, businesses and organisations to make our city a place of safety for people fleeing war, violence, persecution and the impact of climate change. We run initiatives and events across the city, aiming to create a culture of welcome for all. We also run the Sanctuary Transport Fund, which provides bus tickets for destitute sanctuary seekers and vulnerable refugees (especially women.) Your donations will help us to continue our work in making Bristol a real City of Sanctuary.
* Bristol Hospitality Network (BHN) extends solidarity to people seeking asylum and experiencing destitution, through providing accommodation, food and subsistence and encouraging creating community involvement and volunteering. BHN started in 2009, in solidarity with, and to provide practical support to, destitute asylum seekers in Bristol. For the first time in our history, we have closed our drop-ins. Currently, we are meeting the needs of the 30 destitute asylum seekers in our accommodation network, supporting them with destitution payments, signposting, tech poverty, food needs and accommodation needs (where necessary move-ons reflect the precarious positions they are all in.)
* Bristol Refugee Rights is a rights based organisation. We have been providing a Welcome Centre, food, clothing, advice, emergency support, English classes and a fully staffed creche for thousands of Asylum Seekers and Refugees since 2006. We have a dedicated staff team and 120 committed volunteers. With the lock down restrictions in place, we have dynamically remodelled our face to face services to be carried out over the telephone and internet. Many Asylum Seekers and Refugees do not have telephones or can not afford data packages. With your support we will provide phones, tablets and data packages to those who need them the most including children and continue our crucial advice and wellbeing services five days a week.
* Borderlands works with refugees and asylum seekers to help them from exclusion to belonging. Our work has become even more vital during the Covid-19 pandemic as many of our members find themselves with increased isolation and food insecurity. Borderlands is continuing to provide weekly hot meals and food parcels to over 100 members by takeaway and delivery. We are also providing weekly solidarity phone calls to our isolated members. The money raised will ensure that we are able to meet these needs of our members by helping with the extra costs of food, interpreting, and phone credit during this period and that we can continue to support them once the pandemic is over.
Refugee Women of Bristol is a multi-ethnic, multi-faith organisation which specifically targets the needs of refugee women in Bristol. We are directly governed by women of the refugee and asylum-seeking community .Whilst our office may be closed, our team are working hard to support our members and are working closely with all our partners to signpost our members to access advice, have food and toiletry parcels delivered and to collect take away meals and destitution payments. Our hardship fund enables our members to access food vouchers and mobile top-ups. We support over 300 women and their pre-school age children per year, and donations like this will help us to continue to do so.